Spacious: 4 people for 35 m2.
Smokers and animals not accepted!
Each chalet is fitted out to make you feel "at home".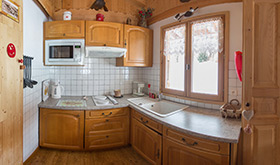 ​​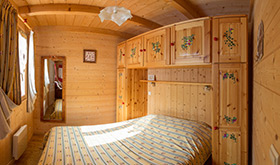 Living room and kitchen:
Cooking equipment for 4 people.
Kitchen
Microwave grill
Dishwasher
Fridge
Hoover
Sink
Extractor fan
Electric hob with 2/4 hotplates.
Furnished sitting room and dining room: 1 polished wooden oval table with 4 chairs
1 plastic table cloth 1 sofa (non convertible)
1 cupboard
1 plasma screen TV with remote control
1 clock
Two bedrooms:
One room with a double bed, pillows, cupboards and wardrobe.
One room with two beds, pillows, cupboard.
Bathroom with shower, basin and cupboard.
Separate W.C.
Blankets provided, (sheets and pillow cases not provided).
Dishes and utensils:
1 pressure cooker with steamer
1 tea towel holder
1 saucepan with lid
1 tin opener
1 universal lid
2 plate stands
2 small saucepans
1 bucket
1 frying puce
1 washing up bowl
1 floor cloth
1 broom
1 vegetable colander
1 scrubbing brush
1 salad spinner
2 tea strainers
1 hoover
1 orange squeezer
1 electric kettle
1 bin 1 electric coffee maker
1 key holder
2 glass salad bowls + servers
1 pair of scissors
2 Pyrex dishes
1 with lid
1 glass water jug
2 ice cube trays
1 small measure
Equiped kitchen:
1 serving tray 5 bowls
1 microwave grill
1 extractor fan
8 stemmed glasses
4 electric hotplates
8 water glasses
1 sink with draining rack
6 coffee cups
1 dish washer
6 tea cups
1 broom cupboard
8 dinner plates
6 soup plates
8 side plates
2 small milk jugs
6 soup spoons
8 forks
8 knives
8 tea spoons
2 wooden spatulas
2 Teflon spatulas
1 bread knife
1 grater
1 vegetable sieve
1 melamine chopping board
1 bottle opener
1 vegetable peeler
2 ladles
1 skimmer
1 spatula
1 large fork
1 large spoon